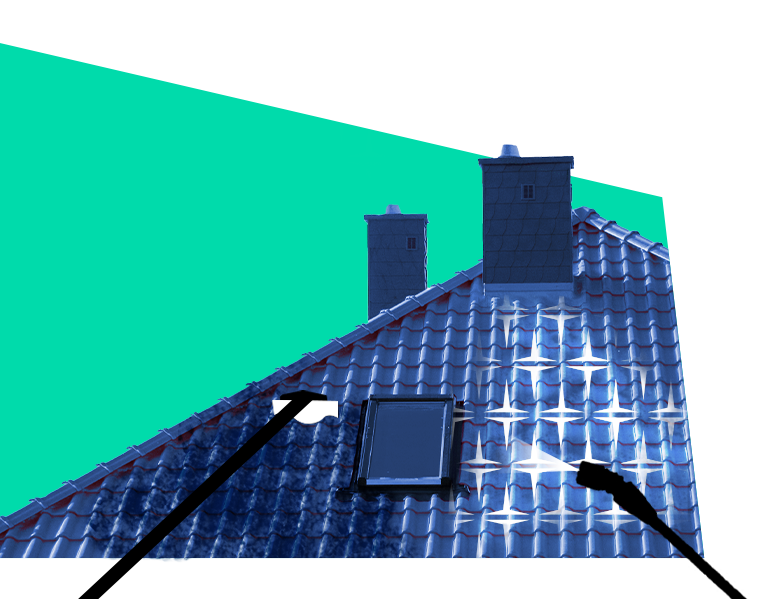 Who can benefit from this service?


Property owners, property sellers

Estate agents and property managers
Why do you need a professional company? 
ROOF CLEANING
Properties, which are based in a damp environment and which are surrounded by trees, are most likely to have their roof covered with moss. It is highly likely for many properties in England to experience this problem, as the wet climate promotes moss growth. Once there is moss buildup on your roof, there are many risks to your property. Moss can cause leakages beneath the tiles, which may rot the wooden materials of your house. If neglected, this will result in costly repairs over time.
Moss can also break off and fall into your gutters. This will lead to a blockage of your drainage system, which would have to be replaced if the problem is not spotted on time.
Experts suggest that roofs should be cleaned and treated every 3 to 4 years to avoid moss growth.
RENDER CLEANING
We often come across buildings, which have changed their colour during the years dramatically. Most often than not, people think they would have to repaint their property but there is actually a cost effective option which may restore the original look of the building – render cleaning.
Cleaning your render not only retains and even increases the value of your property, but it is also important for hygiene purposes and to prolong the life of your building.. In a matter of a few years moss, lichen, and algae grows into your render, so cleaning it is an essential part of the building maintenance.
Why do you need Titan Cleaners?
Our experienced technicians will take a very good care of your roof while ensuring a safe environment for themselves and your property. Such work is being done using industrial equipment and means of access and any carelessness may lead to very costly damages or health and safety risks for both residents and operatives alike.
It is always our main priority to provide a stable environment for our employees and customers and excel in the process of performing the work to the highest standard.
As such, our roof and render cleaning service relies on the following equipment and techniques.
Your roof and render will be clean, protected and moss and algae free for the next 4 – 5 years.
Please enquire for our transferable warranty option which can be a great additional asset for appraisal when selling your home.
Manual scraping of any moss build-up to clear the way for the industrial cleaning using the appropriate equipment and means of safe access
An industry-leading van-mounted system for steam cleaning that effectively kills any biological forms using high steam and low pressure that doesn't damage your roof tiles
A van-mounted softwash and foaming system to allow us to further treat and protect your roof with a biocidal product
Our roof cleaning process also includes the following:
Checking for broken tiles and replacing them
Cleaning of all gutters
Applying AlgoClear Pro on your roof to prevent future growth for several years
Clearing all waste leftover on the roof and the ground created during the work