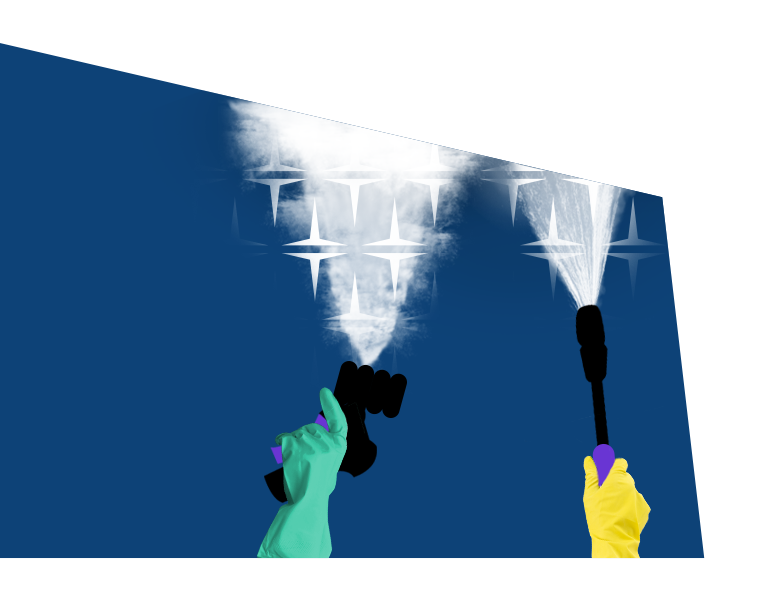 Softwash & Pressure Washing
Who can benefit from this service?

Office Buildings, Warehouses & Industrial Units


Playgrounds, Tennis Courts
Why do you need a professional company? 
Soft washing is a low pressure cleaning process which uses a mix of solutions to treat and remove organic matter such as moss, algae, lichens, mildew and bacteria. It can be applied on roofs, walls, fences and other building exteriors to effectively remove grime, dirt, and other buildup. The method uses a combination of sodium hypochlorite, detergents and water, which come out of dedicated pumps and are precisely applied to the exterior of the property.
In contrast to the pressure washing, this process is much safer as the low pressure application eliminates the risk of damage to the building. It should also be noted that the soft washing does not lead to immediate visible results, but rather the applied chemicals lead to a gradual improvement of the surface over a period of a few weeks. Overall the biggest advantage of this method over the pressure washing is that the risk and cost here are much lower.
Pressure washing is a process of spraying water at a high pressure and it can be used to effectively remove any grime, mud, paint, mould and other build up. The cleaning could be applied to different areas of the exterior of the property including roofs, gutters, and cladding. In addition, pressure washing is frequently used on driveways, sidewalks, patios, and decks.
The reason why jet washers are so efficacious is simply because they are pressurised at about 100-200 times the air around us. In result, surfaces are thoroughly cleaned, and their look is restored immediately.
Why do you need Titan Cleaners?
Our company offers soft washing and pressure washing services using the latest equipment maximising the time and labour allowance. Our technicians are experienced and work with passion and joy to not only provide the best results but a satisfactory customer experience.
Our mobile teams have everything necessary installed in the van and they would come with our own water supply so we'll be completely self-sufficient and no water or power will be required from site. In addition to that, we have various access equipment which our teams are trained and insured to use making any awkward jobs actually possible.
Titan Cleaners procedures' would also ensure all protective and safety measures are employed so that both our technicians and the environment around the area where they operate are not put at any risk or hazard.
Give us a call now to get an exterior look to impress!