Who can benefit from this service?

Households, apartment buildings

Public venues, high street shops

Estate agents and property managers
Why do you need a professional company? 
A professional company will always know how to handle and approach cleaning your windows. Although it may seem as a straightforward job, it is important to be working with an experienced service provider to ensure the job is done correctly.
After all, work will be done at your property and regardless of whether it's with a pure water-fed pole system or using ladders – there will be equipment being used on your windows and the exterior of your property so you would want to make sure the work is carried out safely and carefully to avoid any damage to your property or health and safety risks for the operative at work.
Having all required insurances and training and certification is a must and ensures smooth operation and minimal disruptions or issues.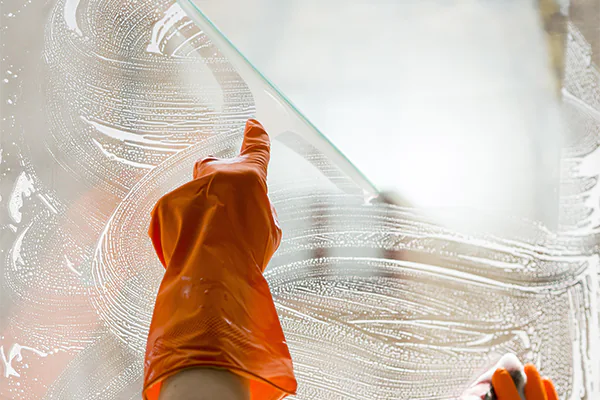 Why do you need Titan Cleaners?
At Titan Cleaners we have a good knowledge and understanding of what care and approach your windows require. We use the latest technology, equipment and products and we ensure the safety of our operatives and our customers' properties or premises.
As with every other service that we offer, you can always expect 100% satisfactory results as we have ensured the process of cleaning has been automated and optimised for maximum efficiency.
By choosing Titan Cleaners, you will get:
An experienced member of the Federation of Window Cleaners and a CHAS Premier accredited company with all insurances in place
Professional equipment and products used in order to leave your windows crystal clear, grime, and streak free by using deionised pure water system. Our system filtrates the water through reverse osmosis and deionisation ensuring there's no particles or limescale residue remaining
A technology that is far superior to the traditional soap water as after windows have been treated with deionised water they actually repel particles which not only makes then clean and shiny but prevents them from becoming dirty again too quickly. The use of soap on the other hand has the exact opposite effect as it creates a microfilm of soap residue which attracts particles and you will find that often your windows get dirty quite quickly after they have been cleaned.
A technology that allows us to clean at height with no ladder, additional equipment or resources required (if height access is required we can always tailor a bespoke solution as we have have IPAF and PASMA trained operatives)
A mobile system which ensures the safety of operatives, clients, and random pedestrians
An independent integrated van-mount system meaning no resources will be needed from the client